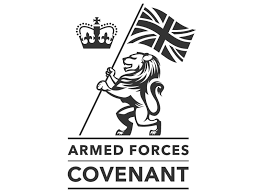 The aim of the Armed Forces Covenant is to encourage support for the Armed Forces Community residing in Cotgrave and to recognise and remember the sacrifice made by members of the Armed Forces Community, which includes serving and former Armed Forces personnel, veterans, their families and widowers. 
Whether you are currently in the Armed Forces or you are leaving the Armed Forces, you and your family often need advice on issues including health, education, housing, training and jobs. Cotgrave's Armed Forces Covenant Officer is here to support you and your family with these issues and we are here to help point you in the right direction.
Cotgrave's dedicated Armed Forces Champion is Jane Pick. For any issues relating to the armed forces community you can contact Jane on 07561 149363 or email cotgravearmedforcescc@gmail.com
Website Links:-
Armed Forces
Armed Forces Covenant Fund Trust
Below are various links to websites that can provided help and advice on Health, Employment, Housing & Accommodation, Finance & Benefits and Welfare
Health
Veterans Gateway – first point of contact for veterans/serving personnel families
Help for Heroes – Mental Health, alcohol misuse, sports recovery and injury advice
SSAFA (Soldiers, Sailors, Airmen & Families Association) – Mental Health, mobility, bereavement
Royal British Legion – Bereavement, mobility, physical health, hearing aids, care
PTSD UK – on-line site with information on PTSD (post-traumatic stress disorder), treatments, research and local support services
Employment
Veterans Gateway – the first point of contact for veterans/serving personnel families
ABF – Soldiers Charity (Army Benevolent Fund) – transition support
Career Transition Partnership (CTP) – The Career Transition Partnership (CTP) is the Ministry of Defence working with Right Management. Leave the Royal Navy, Army, Royal Airforce or the Royal Marines at any rank and you can benefit from resettlement support, career transition advice and training opportunities. We're the official provider of Armed Forces resettlement.
Veterans Employment Service (Enable) – VETS – is a social enterprise that bring together charities, businesses and the MOD to improve employment outcomes for veterans, employers and the UK economy.
Finance & Benefits
Defence Discount Card – The official MoD discount service for the Armed Forces, Veterans and Armed Forces Community.
National Debt Line – Free and confidential debt advice service
Housing & Accommodation
SPACES – (Single Persons Accommodation Centre for the Ex-Services – SPACES is a housing advice and placement service for veterans
Housing Association – General advice and information on housing associations.