COTGRAVE NEIGHBOURHOOD WATCH SCHEME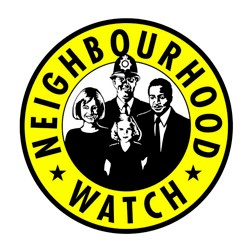 Cotgrave Neighbourhood Watch has been running since 2012 and has built up across the town since that time. There are various schemes in place and a sizeable proportion of the community is now covered.
 What is Neighbourhood Watch (NHW)?
Neighbourhood Watch is one of the most popular and successful crime prevention schemes and is built on the simple idea that by getting together with your neighbours, you can take positive action to help cut local crime. It gives people the opportunity to work  together with their neighbours, the police and other agencies and make a real difference to safety within their community.
The main objectives are:
To help cut crime and help to prevent crime
To give reassurance to the neighbourhood and those in the scheme
To encourage a feeling of safety and bring communities together through local friendship
You can help to look after one another. NHW members can help to reduce levels of crime in the area and help  to make it difficult for criminals to operate.
How does it work?
The scheme is run by a committee of volunteers who oversee those areas which have signed up to the scheme. Each street or area is generally led by a volunteer co-ordinator (street rep) whose job it is to get members within their area working together and ensure that objectives are achieved. This is done by email alerts and other methods of communication.
There are many benefits to setting up or joining a Neighbourhood Watch scheme including:
Feeling secure knowing that your neighbours are keeping an eye on your property
Making you aware of crime prevention ideas that help keep your home and belongings safe
Helping to bring neighbours together with everyone sharing a common goal.
Possible discounts on house insurance from your insurance company
Neighbourhood Watch schemes are community initiatives that are supported by the police and other agencies.
If you are interested in joining a Neighbourhood Watch scheme or setting one up in your area, you can contact your local policing unit on 101 or Cotgrave Town Council who will put you in touch with a co-ordinator.